If you are in Pierce county and want to take advantage of the peak please contact me to get started for a free market analysis and selling consultation to get you the most money for your home.
The Chart above (the Key) was a chart sent out in 2011 and it was correct. the chart above that are actual figures of home sales and prices.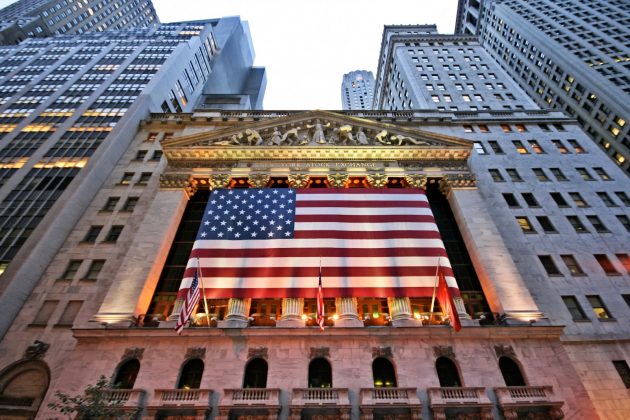 2020 Vision: Experts Say Next Recession Looms at Decade's End
Almost half of experts recently surveyed by Zillow said they expect the next recession to begin some time in 2020.
The most likely trigger for the next recession is monetary policy, according to experts.
Mortgage underwriting standards in general are about right, panelists said. But while credit has loosened for the best borrowers, it has tightened somewhat for those with low credit and/or a low down payment.
Experts largely expect the next recession to begin in 2020, in line with prior expectations expressed in the latter half of 2017. But unlike last year, experts these days are less worried that geopolitical events might tip the economy into the red, and more concerned over monetary and trade policy.
Almost half (48 percent) of those with an opinion said they expected the next recession to occur some time in 2020, with the largest portion of those (22 percent of all respondents) saying they expected that recession to begin in the first quarter of that year. The results are from the most recent Zillow Home Price Expectations Survey (ZHPE), a quarterly survey of more than 100 U.S. real estate experts and economists sponsored by Zillow and conducted by Pulsenomics. Roughly a quarter (24 percent) of all respondents with an opinion said they expected the next recession some time in 2019, while 14 percent said they thought 2021 was the year.
Of note, 9 percent of those with an opinion said they expected the next recession some time in 2022; 4 percent said by Q4 of this year; and just 1 percent said they expected the next recession to begin some time after 2022.
The expectations for the timing of the next recession are in line with a prior survey of the same panel, published in August 2017, when experts said there was a 73 percent probability for a recession by the end of 2020. Similar to the prior survey, panelists were also asked to choose and rank up to three likely triggers for the next recession – but the world moves fast, and the likely causes given in this most recent poll were widely different from the fears expressed just nine months ago.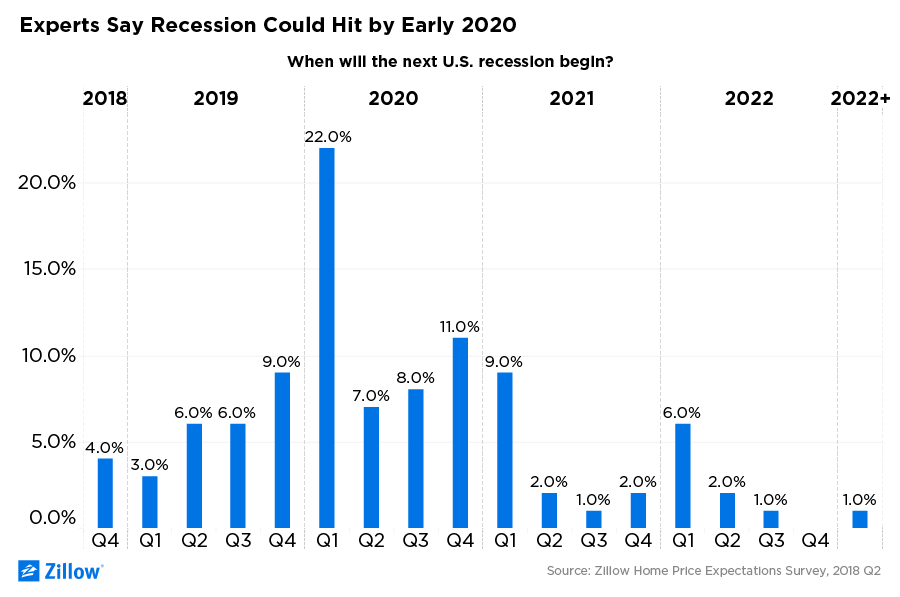 Of the 99 panelists forecasting the timing and triggers of the next recession, 55 chose "monetary policy" as a likely recession trigger. The panel ranked likely triggers as 1, 2 and 3 – and with that weighting, monetary policy came out as by far the most expected catalyst, with a score of 137. That put it well ahead of trade policy (a score of 71), a stock market correction (69), higher-than-expected inflation (68) and fiscal policy (64). A potential geopolitical crisis triggering a recession ranked a distant sixth, with just 26 panelists selecting it as a likely recession spark, for a score of 44 – well below the 67 panelists (and score of 138) recorded previously.
And unlike last decade's recession, caused in large part by speculation and bad actors in the housing market and felt most strongly by homeowners, experts said they do not think a similar housing crash is likely to trigger the next recession. A potential housing market crisis ranked ninth on experts list of potential recession triggers, with a score of just 17.
Mortgage Credit: Better for the Best, Worse for the Rest
Insomuch as it trickles down to consumer interest rates and on to consumer credit decisions, panelists' concerns over the potential for monetary policy to trigger the next recession were not echoed in their assessment of residential lending standards more broadly. A majority of those with an opinion (51 percent) said today's mortgage underwriting standards were just about right, neither too tight nor too loose. Similar portions of respondents said underwriting in general was somewhat tight (25 percent) as somewhat loose (21 percent).
But while panelists said lending standards were about right overall, their views on how availability of credit has evolved in recent years varied depending on the credit profile of certain mortgage borrowers – with things getting generally better for the best borrowers, but worse for the rest. For prime borrowers with the best credit histories, a large majority (70 percent) of panelists said lending standards were about the same or looser today relative to pre-bubble norms. For more typical borrowers with less-stellar credit histories, exactly half of panelists said credit has gotten somewhat tighter, with only 13 percent saying it had gotten easier.
The story was worse for those borrowers with low credit scores and/or those seeking a loan with a low down payment: 84 percent of respondents said lending standards have gotten somewhat or much tighter for the former, with 75 percent saying the same for low-down-payment borrowers.
A Slowdown in Appreciation Through the End of the Decade
Finally, panelists were also asked to project the pace of growth in the Zillow Home Value Index over the next five years. The average of all expectations among the 114 experts offering a prediction was for home values to end 2018 up 5.5 percent over the end of 2017, a slowdown from current annual growth of 8 percent. On average, panelists said they expected home value growth to slow further in coming years – to 4.1 percent by the end of next year, 2.9 percent in 2020, 2.6 percent in 2021 and 2.8 percent by 2022.
For more info go to https://www.zillow.com/research/experts-2020-next-recession-19994/
To get started in either buying or selling please CLICK HERE to get started.